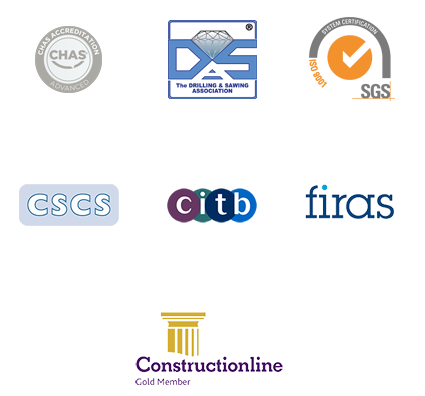 Floor Sawing
Our Diamond Floor Saws utilise Diesel or 3 phase electric power and are predominantly used to provide cuts to reinforced concrete or asphalt providing a clean and precise edge.
Typical applications would include the cutting of flat surfaces such as roads, airport runways and floor slabs.
While the equipment is partially automated the skill of the operator is paramount to providing a quality job. Our operatives are all highly experienced and you can be confident that the cut you require is the cut you will get.
Advantages / capabilities of Diamond Floor Sawing
Clean precise cuts to a depth of  500mm through asphalt or  concrete.
Fume free electric saw available for internal use can cut to 500mm.
Portable water and power supply where required provides self sufficient operating.
Our vans are equipped with 'Drive on Drive off' facilities to deliver the saws to precise site locations.